Eyelash Extensions $150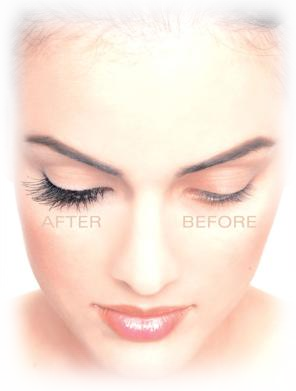 Eyelash Extensions create beautiful captivating lashes that emphasize the shape of the eye.
Eyelashes will appear darker, longer, and thicker while creating more beautiful lashes.
Save time. No need for mascara or eye lash curlers
Lash Parlor at Hypnotic Salon has Eyelash Extensions to meet your needs.  Whether it's just for the night out or a more permanent look.
How it's done?
Depending on how long you plan on wearing your extensions different methods are used.  Extensions are applied individually by to each of your lashes for a natural look.  This procedure involves attaching anywhere from 35 to 80 individual lashes.
The entire process takes about one and a half to two hours to complete.  If you have existing lashes, even if they were done elsewhere we provide free removal.
We provide eyelashes in many curl patterns as well as thickness and length.  We also provide tinted eyelashes and glitter eyelash extensions.
How long do they last?
Depending on how you care for you lashes they will last for up to 4 weeks.  Your natural eyelashes cycle is more rapid than the hair on your head. Therefore you will loose up to 50% of your lashes within 30 days.  We provide a refill service where we attach lashes to fill in the missing.  Fill service takes less then an hour.
If you are looking for a more dramatic look we can add permanent clusters to the full set for just $50 additional.  Clusters add more lashes to enhance already long lashes.  Permanent clusters  are available as a stand alone service for $100
Appointments are available by phone or through our 24hour online booking system.  Please click the link Book Online Now.
We've been doing eyelash extensions for over 7 years.  We've mastered the process!  We use low fume adhesive to make the process more comfortable.  We also provide free fills for the first 48 hours.